---
Vulcan Industrial is a specialized precision engineering and manufacturing company dedicated to producing high-performance, mission-critical components and systems for the energy, defense, aerospace and heavy industrial sectors. Vulcan's new V-Series™ fluid ends represent some of hydraulic fracturing's longest-lasting and easiest to maintain equipment. Using advanced engineering, superior service and in-house metallurgy helps our units run longer, better and more economically.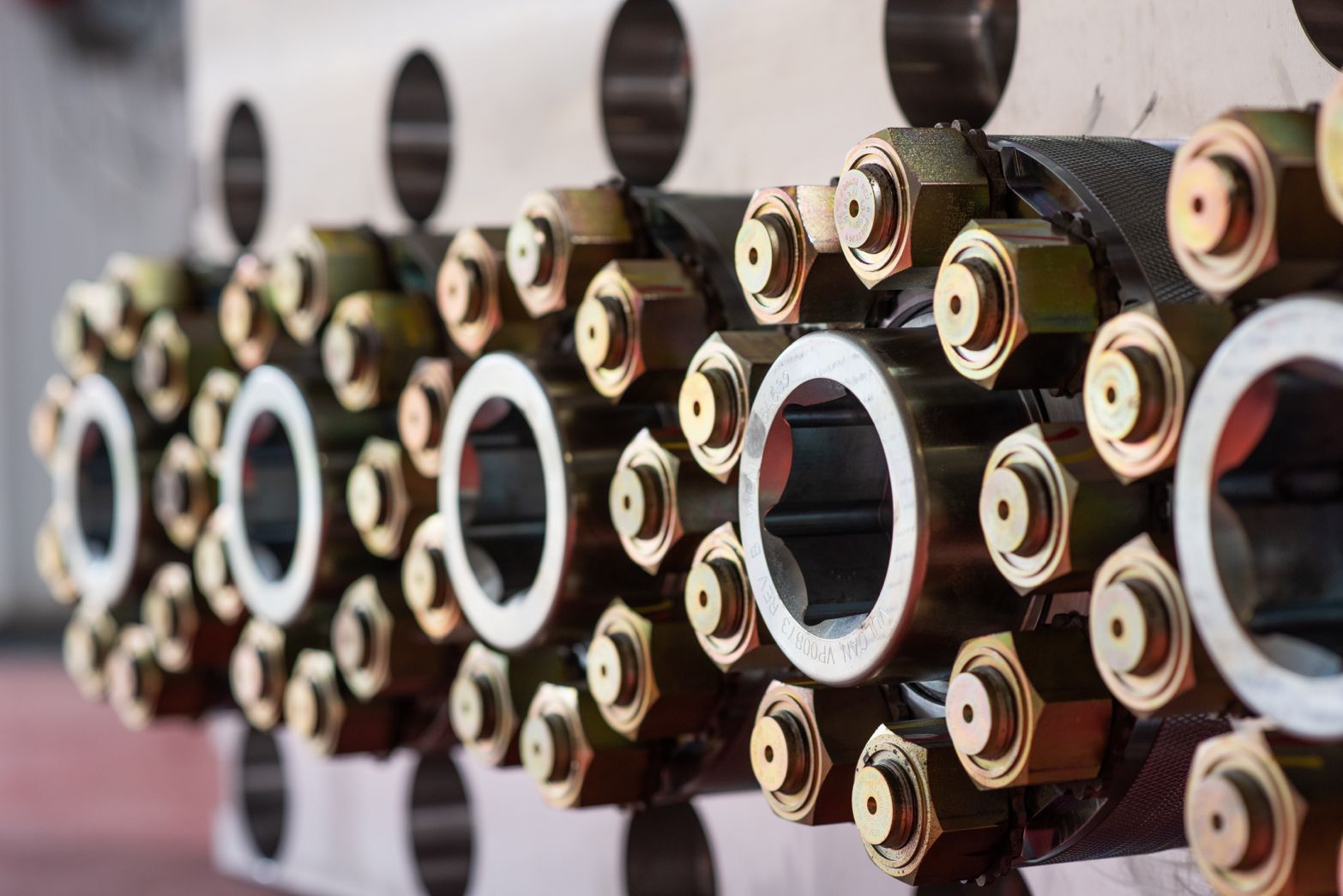 High performance fluid ends engineered for less stress, longer life and streamlined maintenance.
V-Series™ fluid ends are the next generation of ATLAS® and ICON® product lines, featuring advanced designs and engineered for field serviceability. V-Series™ fluid ends represent the leading edge of fluid end technology, pairing enduring reliability with the kind of intelligent economization today's industry demands. The design evolution of these fluid ends eliminates the most common failure modes of legacy fluid ends, decreasing downtime and lowering your total cost of ownership. Compared to alternative competitor designs, the V-Series™ utilizes 50% fewer component parts per fluid end assembly for streamlined field maintenance.
V-Series Q2500 Models:
Quintuplex 2500HP pumps - 8" stroke, 10" centers, 54.25" width
Triplex 2250HP pumps - 8" stroke, 12" centers, 40" width
V-Series Q2500-60" Models:
Quintuplex 2500-3000HP pumps - 8" stroke, 12" centers, 60" width
Download V-Series Q2500 Brochure
V-Series Q3000/Q2700/T3000 Models:
Q3000 V-Series compatible with QEM3000/5000 8-inch stroke, 12" center pumps
Q2700 V-Series compatible with FMC 2700/3000 10-inch stroke, 10.5" center pumps
T3000 V-Series compatible with GD3000 11-inch stroke, 13" center pumps
Benefits of the V-Series fluid ends include:
Complete cross compatibility
Field replaceable packing sleeve
Machine finished cross bores
Advanced stainlessTM Steel with higher abrasion resistance
No special high change-out parts required
Modular suction cover retainer system with 2" Hex
Oilfield service providers are under more pressure than ever to optimize all aspects of fluid end economics. That's why the APEX™ fluid end was engineered specifically to reduce the total cost of ownership by both outlasting and outperforming alternatives. The APEX™ features optimized cross-bore geometry and proprietary surface treatments that work to eliminate stress corrosion cracking and fatigue failures for extended cycle life. These units also accept all commonly available components such as packing replacement sets, valves, seats, bore seals and more, so you can standardize fleetwide for less inventory and more supply chain efficiency. 
APEX™ fluid ends are compatible with SPM QWS1000S, MSI QI-1000, MSI QIH-1000, GD 1000Q HD (6-inch stroke) or equivalent pumps.