Predict problems before they surface.
REDUCE COSTS, RISK, AND DOWNTIME IN WATER TREATMENT FACILITIES.
Westpower's Condition Monitoring solutions, powered by Machine Sentry, help water distribution companies and local municipalities monitor pumps and other rotating equipment. Our technology and quarterly vibration collection and analysis service help operators:
Avoid catastrophic failures
Reduce downtime
Increase operating efficiency
Make data-driven decisions
Complete predictive maintenance
Learn how a municipal water facility harnessed Westpower's Condition Monitoring technology to prevent problems well before failure.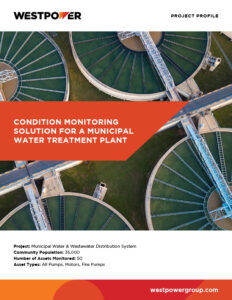 READY TO HAVE INSIGHT INTO THE HEALTH OF YOUR WATER FACILITY'S OPERATIONS?
It's easier than you think. Let's get started!
STEP 1:
CONDITION MONITORING PROGRAM CONSULTATION

STEP 2:
ASSET & COMPONENT IDENTIFICATION

STEP 3:
SENSOR INSTALLATION & SOFTWARE PLATFORM CONFIGURATION


STEP 5:
REGULAR DATA ANALYSIS & ONGOING PROGRAM MAINTENANCE

Expert data insights to support your team.
Westpower's experienced team of rotating equipment engineers, millwrights and reliability specialists provide ongoing support for your team, whether it's ad-hoc or routine quarterly analysis. We take the time to learn about your specific facility and equipment maintenance program to offer actionable insights on how to prevent unplanned downtime while optimizing equipment reliability and total cost of ownership. Westpower can also support with repairs, lubrication, or new equipment as part of routine or emergency maintenance.