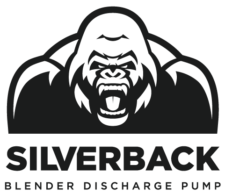 ---
Westpower's drop-in ready blender discharge pump replacement means more reliable frac operations without costly retrofits or unplanned downtime.
Westpower's Silverback blender discharge pump is a drop-in ready replacement for the NOV Mission Magnum 14 x 12 centrifugal pump currently installed on most blender systems.
Our team of engineers and technical experts realized there was a better and more reliable way to pump high volumes of abrasive fluids. Not only does Westpower's Silverback blender discharge pump handle high volumes of proppant, it also addresses the inherent shortcomings of other blender discharge pumps currently in operation.
The Silverback blender discharge pump is designed and manufactured by Westpower's MABRE pump division and has been thoroughly tested in the field by four major frac companies. Our Silverback blender discharge pump has achieved over 400 million pounds of proppant with no indications of major wear related loss of efficiency.
How Silverback helps
The Silverback blender discharge pump is easy to install and operate, minimizing the amount of time and money spent on major retrofits. It is hydraulically designed to replicate the NOV Mission Magnum 14 x 12 centrifugal pump except it operates at a constant speed of 1000 rpm which dramatically reduces wear. The 14" inlet matches the 14 x 12 and maximizes suction pressure providing enough velocity to keep solids in suspension. As erosion occurs, speed is increased on typical blender discharge pumps to maintain performance, whereas the Silverback's enclosed impeller design maintains performance at a constant speed throughout the life of the pump, thereby enhancing reliability.
Silverback's heavy wall construction translates into more reliable operations, meaning no flange wash outs or cracked pump cases. Our full slurry pump design also incorporates heavy duty bearing housings and wear plates that facilitate pumping of hundreds of millions of pounds of very fine proppant. Additionally, our design utilizes an expeller and high-quality lip seals for zero leakage during operation and when the pump is not turning.
In our experience, mechanical seal failures are one of the leading causes of unplanned pump downtime, while packing allows constant leakage. That's why we've designed the Silverback blender discharge pump without mechanical seals or packing and fully dry run capable, minimizing unplanned failures.
To learn more, download the Silverback brochure here
---

Some of the benefits our major frac clients have realized by using our Silverback blender discharge pump include:
Increased frac operations reliability – eliminating premature or unplanned failures.
Easy drop-in replacement and installation – same footprint as the NOV Mission Magnum 14 x 12 with NO expensive retrofitting required.
Short lead time, delivered in 2 weeks – we have inventory on hand and ready to ship.
Long lasting pump life, no leaking and no failures – purpose built and designed with an enclosed impeller, heavy duty bearing housings and wear plates combined with no mechanical seals to achieve optimal performance from installation to end of life. Wet end component metallurgy is High Chrome White Iron – A532 Class III Type A.
---

Challenges solved by the Silverback blender discharge pump:
Complex and expensive retrofitting
Cavitation
Excessive erosion
Fluid leakage
Impeller or flange wash outs
Bearing cartridge failures
Frequent maintenance
Premature and catastrophic failures
NPT (Non-production time)
Contact our experts to find out more about how you can achieve more reliable frac operations and minimize scheduled or unplanned downtime with the Silverback blender discharge pump.